ThermoActive
Reflective roof coating with excellent cooling performance
ThermoActive is the roof coating with cooling effect. It ensures cooler rooms under hot sun. ThermoActive extends the life of the roof structure and reduces the temperature inside the building. This protects the roof structure and reduces the energy demand of the air conditioning systems.
All coatings of ClimateCoating© are based on the reflective membrane technology and have a purely physical effect. The environmentally friendly and high-performance coatings have been convincing users worldwide since 2003 with their special properties and high cost-effectiveness.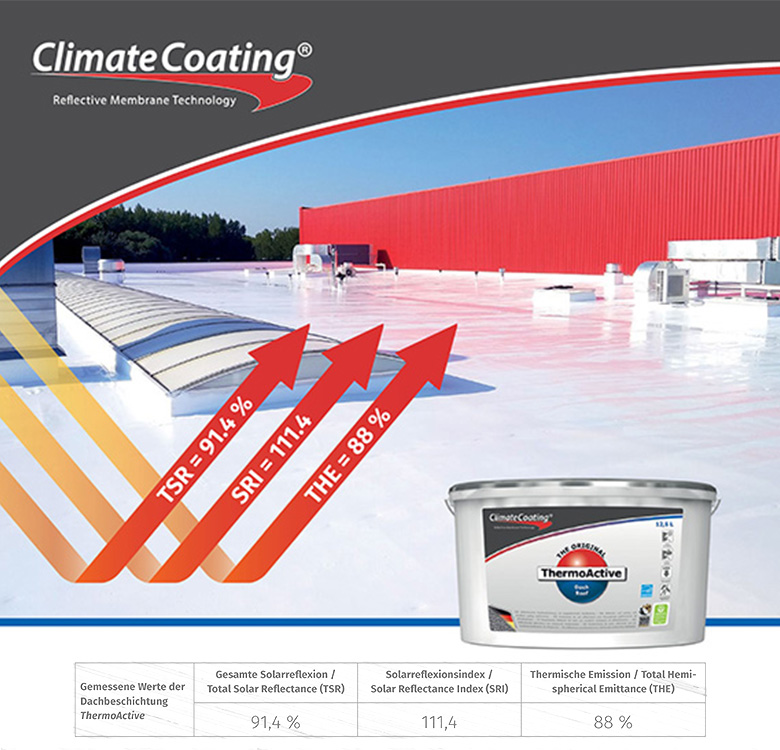 High reflection values – almost like snow
ThermoActive roof coating can reflect over 91% of the sunlight. This is a proven peak value. Pure snow reflects 100% of the sunlight.
Cost reduction through passive air conditioning
The reflective ThermoActive coating absorbs moisture, which evaporates and cools when exposed to sunlight. It works even if the roof is not coated in white. Relatively high cooling performance through evaporation is achieved even with darker colors. This leads to a reduction in cooling related energy consumption and consequently in a reduction in CO2 emissions.
Extended service life of the roof construction
The excellent elasticity of ThermoActive makes it possible to bridge roof cladding joints without any problems and that at temperatures from -40°C to +150°C. The roof remains waterproof. The coating is extremely robust and can resist environmental influences such as acids, alkalis, ozone, nitrogen- and sulfur oxides. The coating is also extremely UV-resistant and has an excellent long-term stability. The coating doesn't brittle, flake or weather. All together this extends the life of the roof construction and reduces maintenance costs.
Downloads
Properties
ThermoActive acts like a passive air conditioner due to its properties and ensures cooler rooms under hot sun.
The innovative formula in combination with its high-quality materials ensure that a flexible and reflective membrane with excellent properties is formed after the coating is applied:
very high sunlight reflection
long-term material durability
above-average elasticity and robustness
waterproof and able to withstand heavy rainfall
temperature resistance from -40 to + 150°C
Video: That's cool. Passive cooling redefined. The coating with ThermoActive makes it possible.
Further Properties
high and durable UV-resistance
weather-resistant
elastic
gab/joint bridging
high resistance against acids, alkalis, ozone, nitrogen and sulfur oxides
Colour Tone
100,000 color shades
high colour stability
Processing
paint roller
brushing
spraying method
Packaging Units
19,0 (= 5,02 gal) / 12,5 / 5,0 l
Consumption:
600 ml/m² on smooth, not highly absorbent surfaces with 2 applications
with additional fiber embedding up to 1,000 ml/m² with 2-fold application
Areas of application
Roof Types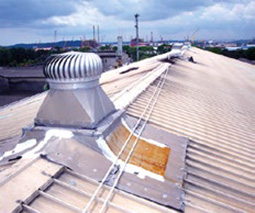 flat roof
pointed roof
pitched roof
commercial real estate and private houses
Materials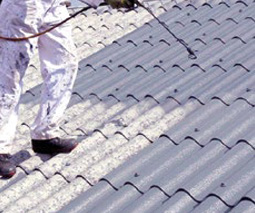 ferrous metal
non-ferrous metal
plastics
synthetic fibres
old and new plaster
intact old coatings
Climate Zones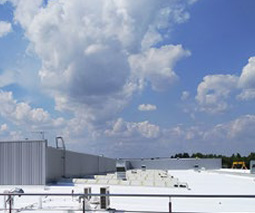 warm temperate climate
subtropical climate
tropical climate
cold temperate climate
Customer Goals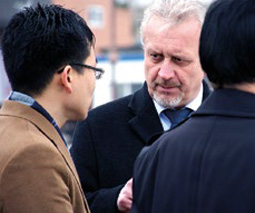 saving of cooling energy
surface robustness
water tightness against driving rain
reduction of thermal stresses
Are you looking for a paintable solution for your roof? Then please contact us.
We would be pleased to provide you with our worldwide practical experience.
ThermoActive-Supervisor: Marius Sprenger
Application specialist: Franziska Felsch
Marketing: Detlef Steiert
eMail:This email address is being protected from spambots. You need JavaScript enabled to view it.
For general inquiries please use the contact form
send request
Contact
We are pleased that you want to get in touch with us!
Please fill out all fields of the contact form and we will take care of your request as soon as possible.
Wackenbergstraße 78-82, DE-13156 Berlin
info@sicc.de
+49 (0) 30 500 196-0
+49 (0) 30 500 196-20

Note: By submitting your requests via the send button, you agree that your details from the contact form may be collected and processed in order to answer your request. The data will be deleted after processing your request. You can revoke your consent at any time by e-mail to info@sicc.de. Detailed information on handling user data can be found in our privacy policy.